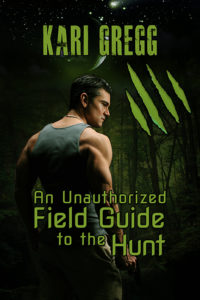 Published By: Kari Gregg
Published: August 13, 2013
Word Count: 30,708
On Mariket, the strongest competitors win…by losing.
Narone native and former heir of Class II shipbuilder Denbo-West Industries, Shane West surrendered his perilous birthright to compete in the Hunt and tried his luck with the lusty cats of Mariket. Shane's mastery of survival craft in the untamed forest made him an early favorite among gamblers, fans, and arena officials. When he lured a cat into an arousing chase the first night, mating with Lore to become the season's first victor seemed guaranteed.
Then news from Arena 4 slowed to a trickle. Rumors emerged about cats who'd gone feral as well as shocking breaches in security. Unconfirmed reports of assassins and rogue predators circulated before offworld communications screeched to a halt.
In this unprecedented glimpse inside the arena, Shane peels back the veil of secrecy. What does it take to tempt a sexy cat? How does being marked as prey by a feline lover feel? Experience the wanton pleasures of the heat with Shane and his mysterious mate–and discover which of last season's scandalous rumors are true.
Run, pounce, fuck.
Mate?
Welcome to the Hunt.

Amazon Gay Romance Bestseller
Amazon Gay Fiction Bestseller
Amazon Science Fiction Romance Bestseller

"You know what I love about Kari Gregg's paranormal stories? They are so out of the box, so original and so captivating… intriguing from beginning to end…" (Joyfully Jay)
"…one hell of an action filled, erotically masterful ride…" (Boy Meets Boy Reviews)
"With strong characterizations, excellent world building and sex scenes so hot it might melt your Kindle, I'm recommending this different take to the paranormal genre." (Jessewave)
"…a smooth balance between anthromorphic beings; strange, hostile worlds; sex; and savage intrigue. It isn't a soft or gentle story, rather one that will keep your heart racing the whole journey." (Top 2 Bottom Reviews)
An Unauthorized Guide to the Hunt is available at these vendors (in these formats):
Amazon (mobi)
Barnes & Noble (epub)
Kobo (epub)
Payhip (mobi, epub, pdf)
Smashwords (mobi, epub, pdf)
iBooks
Save