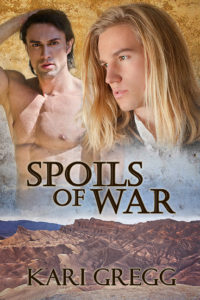 Published By: Kari Gregg
Originally Published: Oct 20, 2010
Revised & Reissued: January 14, 2014; 2017
Word Count: 23,276
Enslaved during the invasion of the rival King of Herra, Micah cut off his emotions and adapted to his new life in servitude. Xerxes, the Herran King, abuses his captive to keep the neighboring kingdom of Alekia under his yoke, but after Micah nearly dies when plague sweeps Herra, the Alekian King sends Eli to bring his beloved son home.
Institutionalized by his slavery, unable to cope with his freedom, Micah seeks to please the new Master he's found in Eli throughout their harrowing journey to a homeland he no longer remembers. Eli protects the young man and introduces Micah to the pleasures denied him as a prisoner.
Will Micah accept his noble birthright when they reach Alekia and more importantly, can he accept Eli as the devoted slave his father has given him rather than the Master he's come to love?
Spoils of War has one of the most intense and lyrical opening chapters of any novella I've ever read. The prose is sparse but every word is measured for impact—an emotional avalanche that will leave your heart breaking…After having read Kari Gregg's last novel, Lovely Wicked, I can say that I see a common thread running through her books…—the idea that all souls are worth redeeming. That the resilience of the spirit will never cease to amaze you and that, in the end, there is always love. This is a novella I will read and re-read and it will continue to touch my heart for some time to come. (Full review)

Night Owl Reviews rated Spoils of War a 5 Star Top Pick:
Spoils of War is the first book I've read by Kari Gregg and it won't be my last! I loved, loved, LOVED this book and I hated for it to come to an end! I was immediately captivated by the main hero, Micah, and I wasn't able to pull myself from the story until I read the very last word.
Literary Nymph Reviews rated Spoils of War 5 Nymphs:
Micah is one of those characters that the reader will have no problem caring about, and the pain and suffering he goes through will tear at your heart. The character of Eli is as strongly written as Micah. The patience and understanding he shows the young man helps Micah on his road to healing. These two men fit together perfectly and I could not put the story down. (Full review)
Amazon Kindle Gay & Lesbian Bestseller
Amazon Kindle Romance Fantasy, Futuristic & Ghost Bestseller
ARe Sci-fi/Fantasy Bestseller
ARe Top Reader Rated
Spoils of War is available at these vendors (in the following formats):
Amazon (mobi)
Payhip (mobi, epub, pdf)
Kobo (epub)
Nook (epub)
Smashwords (mobi, epub, pdf)
iBooks
Save
Save
Save