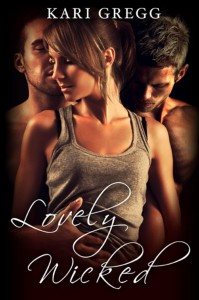 Published By: Kari Gregg
Published: January 28, 2014
(Original Pub Date: September 18, 2010)
Word Count: 70,605
Mitch McAllister and Liv Winslow grew up in the same squalid trailer park, turning to each other for comfort as scared kids. When they meet there again while visiting their dysfunctional families as adults, Mitch and Liv escape the ghosts of their past in sexual excess. They ultimately include Mitch's neighbor Sam Lawson in their giddy, extravagant play. It was only supposed to be sex: hot, dirty, spine-melting sex.

None of them wanted to fall in love. If life has taught Liv, Mitch and Sam anything, though, it's that we don't always get what we want. But if we're very lucky, sometimes we get exactly what we need.

ARe Site-Wide Bestseller
ARe Category Bestseller — Contemporary
ARe Category Bestseller — Multiple Partners
ARe Category Bestseller — Bixesual/Transgender
There are times when you sit down to read, and you instantly know you are experiencing something special. That's how I felt when reading LOVELY WICKED. This book is unlike any other erotic romance I have ever read. The deeply emotional plot rivaled with the extremely erotic and at times very carnal scenes and made this a highly intense read that captivated me from the beginning…I thought that this book was unusual in that it's a romance, but it's told through the eyes of Mitch. That unusual voice lent itself to the amazing quality of this work. Rho, The Romance Reviews
Atypical for the genre this is more than a ménage book with a little kink—it is an exploration of the resilience of individuals who rise above what they were to become what they want to be. Utterly authentic and compelling, read this when you want more than just a casual good read. Be prepared for a little shock, a whole lot of inspiration, and a different kind of Happily Ever After. (Full review)
Lovely Wicked is available at these vendors (in these formats):
Amazon (mobi)
Barnes & Noble (epub)
Kobo (epub)
Smashwords
Payhip (mobi, epub)
iBooks
Save