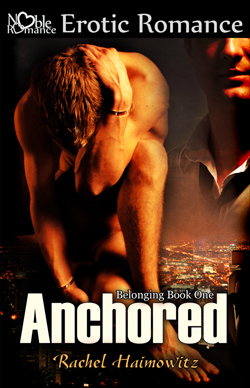 Network news anchor Daniel Halstrom is at the top of his field, but being at the bottom of the social ladder–being a slave–makes that hard to enjoy. Especially when NewWorld Media, the company who's owned him since childhood, decides to lease him on evenings and weekends to boost their flagging profits.

Daniel's not stupid; he knows there's only one reason a man would pay so much for what little free time he has, and it's got nothing to do with his knowledge of current events. But he's never been made to serve like that before, and he fears he won't survive the experience with his sanity intact.

He finds himself in the home of Carl Whitman, a talk show host whose words fail him time and again when it comes to ordering Daniel to bed. Daniel knows what Carl wants, but it seems as if Carl isn't willing to take it, and Daniel's not willing to give it freely. His recalcitrance costs him dearly, but with patience and some hard-won understanding, love just might flourish where once there'd been only fear and pain. Can Carl become the anchor in Daniel's turbulent life, or will he end up the weight that sinks his slave for good?

Special Content Alert: M/M, forced oral and anal intercourse

Available at Noble Romance
And brand-spanking new, the book trailer I made for Anchored:
My Review
There is absolutely nothing about Anchored that isn't heart-pounding and gut-clenching–in the very best and very worst (which is also the best) ways. Daniel is a network news anchor–and a slave–owned by NewWorld Media and if you think this is play-acting? A silly game? You, my friend, are dead wrong. Rachel Haimowitz sucks us right in so that we experience every detail of Daniel's slavery and we struggle right along with him as Daniel wrestles with who he is, what he is and the cold, often brutal world he lives in.
Daniel's owners? If you walk away from Anchored thinking they aren't monsters, seek therapy, pal. They are the stuff nightmares are made of. Fortunately for Daniel, when his owners lease him out during his free hours for extra profit, he ends up with Carl, though. Carl is essentially a good man, though he is very much a product of his environment. As a master, he tries to have patience and understanding with Daniel, but…A slave is a slave and he's not paying the big bucks for Daniel to look pretty, is he? When his patience wears thin, Carl goes to NewWorld media about Daniel's hesitation to serve Carl sexually…Carl makes them promise not to beat Daniel again. But Daniel pays an even higher price.
Daniel is raped by his owners. Yes, plural. On-screen. And it. Is. Brutal.
Carl's care and concern for Daniel in the aftermath is finally the one thing that reaches through all of Daniel's fears and convinces Daniel that Carl is worth risking not just his trust, but also his heart. The end, watching these two men grow together, watching Carl work for Daniel's trust and Daniel ultimately give it to him? Whoa.
Anchored is not a light read. Sometimes, it will make you uncomfortable. Sometimes, you will be horrified. You will share Daniel's pain, his fear, his struggle. But you'll also share in the healing Carl offers him and find the love that was waiting for these two men all along. Highly recommend, two thumbs way up.
***
Alrighty…
Wanna win a book? Rachel's offering winner's choice of either Counterpoint (Song of the Fallen) or Sublime: Collected Shorts as well as a swag bag of cool Anchored and Counterpoint goodies, winner to be drawn from those leaving comments and announced January 23rd-24th at her blog tour's end.
And if you still don't have enough of Anchored, why not head on over to Daniel's character interview at Desert Island Keepers today?
Or you can head over to yesterday's stops with Brita Addams for the Anchored deleted scene/prologue or see what Aleksandr Voinov had to say in his interview and review.
So…Leave a comment about Anchored for your chance to win. Or you can wax poetic about my crazy mad book trailer making skilz. That works too. 😉