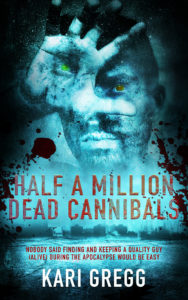 All that's keeping Riley from the man he's falling in love with are the ruins of a city filled with half a million dead cannibals.
Strangers, Riley and Graham sheltered together in a basement storage unit when the zombie outbreak slammed into the world three months ago. They lived through the first blast of the plague, but they may not last much longer among survivors scrambling for dwindling resources. They agree to hike from the city and to the safety of the mountains. They didn't count on the storm they hoped would cover their exit developing into a Nor'easter, though, and they sure didn't think their visibility would shrink so badly that they'd hike into the leading edge of a zombie swarm, either. In the chaos of escaping the ravenous horde, they are separated, with Graham racing toward feral dog packs to the east and Riley sprinting to hostile survivors hunting them to the west.
Nobody said finding and keeping a quality guy (alive) during the apocalypse would be easy.
Note: This is a previously published work.
26,782 words

Just in time for the Halloween season, Half a Million Dead Cannibals is finally available again at Amazon, Smashwords, and Payhip (remember to use code 25OFF to get 25% off the purchase price at Payhip!) and is processing at Nook, Kobo, iBooks, and other vendors so should be available very soon.
Even better, I'm participating in a zombie fun run on October 21st to raise money for breast cancer awareness. If you buy a copy of Dead Cannibals by the 21st, I'll add whatever the math tells me I'll make from the sale to my check for the race. So get your spooky on and support a great cause!
Hoping you and yours have a scarylicious Halloween…and happy reading!
Kari