Current events IRL changed my 2015 game plan so…Act One: Safe Travels of For Whom the Heart Stone Burns is AVAILABLE NOW at Amazon and ARe (& soon at Barnes & Noble)!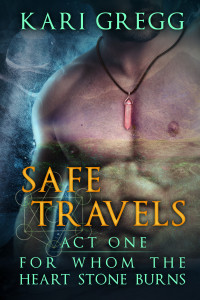 Becket built his life around unbelief in the magic Theo, his uncle and guardian, had devoted his all to…until Theo vanished. Grief-stricken, Becket followed Theo's clues, sending him through a stone grid to Ket. With no magical ability, Becket must find Theo in a land where dragons roam the lowlands and magic evolved in men and women who aren't apex predators and have settled in high aeries to survive.

Locating his uncle, however, is the easy part. Becket is a bibelot – non-magical. And Theo is recovering from a wild magic storm that hit his expedition to the lowlands. He can't control his power.

They can't go home.

Elders will permit a second expedition and Theo's sole hope of obtaining frequency stone to stabilize his magic, but only if he allows seers to scry Becket's sentinel first. Too bad the protector scried for Becket is Theo's rival in this strange otherworld, another caster named Kellan Fik. And Kellan knows Theo and Becket aren't what they seem.

Handfasting his enemy may be Becket's best and only chance.
I'm currently working Act Two: New Beginnings so that's still coming on or very near my original plan to release Act One at the end of May. (Basically, I shifted the timeline for this project forward a couple months). Act Three will roll out when it's ready, my target for that being this fall since it's so dreadful long. For all of you who've wondered if I'm capable of producing a sequel? I've discovered that when I work a minimum of one book ahead and throw in an abundance of glorious woo-woo, I'm all over that shit, LOL. Those of you not pleased about getting this in three acts…Honestly, the story is so massive I couldn't do it in one go without entering the Land of Precious and reining as queen. Heart Stone was always going to be divided, just a matter of how I split it, where, and why. As Heart Stone has been plotted, these manageable chunks were logical to me, creatively on point, and avoided the story becoming pretentiously long and unwieldy.
So! I hope you enjoy the start of Becket's journey with Kellan!
In other news and very much on the personal front…
I want to emphasize I AM OKAY. I'm not in pain or anything like that. I've been doing extremely & shockingly good and that's the God's honest truth. That said…I've been diagnosed with breast cancer, a very aggressive one, so my treatment (which I'm well into at this point) is likewise aggressive. My BC showed up during self-exams between regular mammograms – plain old bad luck, guys. That's all this is. Everything that can be done is being done, though, and my chances are G-R-E-A-T! I'm still me too. Upbeat. Scrappy. Cracking jokes and looking for the adventure in every single day. I don't – and won't – give up. Ever. Don't you dare give up on me, either. I WILL BEAT THIS!
While I do, if you'd add me & my family to your prayers and wing positive energy & kind thoughts my way, that would mean the world to me. Please don't be sad. If I can be positive, you can too, I promise. I've officially declared myself a YOU CAN DO EET zone of upbeat happy! Fun socks, purple wigs (!!!with dreds!!!), and all manner of random absurdity abound! I will be – and already have been – the most fabulous patient my medical team has ever seen. Same ole Kari: SHAMELESS FUN IS MINE, ALL MINE. 😀 😀 😀
As for work…I'm not disappearing. This is not goodbye. I'll still be around, writing and updating as I can. In the meantime, I'm fighting like a girl – a redneck girl who fights dirty. And cheats. ;-p
My love to you all,
Kari
p.s. If you want to do something for me, seriously, prayer and kind thoughts are numero uno on my list. I don't like to be preachy, never thought that was appropriate for me in this space, but IRL, I'm quite devout. Liberal, LOL, but devout. Prayer and positive energy – my daughter's Pagan boss has been doing some sort of altar thingie for me and I'm sure not too proud to say HELL YES to any perky boost I can get! – all of that genuinely does mean a great deal to me. Otherwise…The best gifty you can give me is to schedule any overdue mammograms and self-examine every month without fail. Mark this day on your calendar, if that's what it takes, but GROPE YOUR BOOBS, LADIES! I'm laughing, yeah, but not really joking here. Do it now. Do it TODAY. Learn what is normal for you and if you notice anything even slightly amiss, I want you to leave skid marks on the asphalt on your way to your mammo clinic. You are never, ever, ever too busy to (potentially) save your life! I should know. Zero bullshit, routine mammos & self-exams just saved mine.