Zombies are coming, dudes. Are you ready? Are you suuuuuuuuuuuuuuure? Because I'm here to tell you that your ereader is singularly lacking in some quality smut to entertain you during the end of the world — my Half a Million Dead Cannibals, for instance, releasing next Week at Loose Id.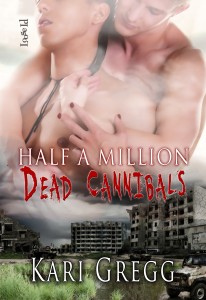 All that's keeping Riley from the man he's falling in love with are the ruins of a city filled with half a million dead cannibals.

Strangers, Riley and Graham sheltered together in a basement storage unit when the zombie outbreak slammed into the world three months ago. They lived through the first blast of the plague, but they may not last much longer among survivors scrambling for dwindling resources. They agree to hike from the city and to the safety of the mountains. They didn't count on the storm they hoped would cover their exit developing into a Nor'easter, though, and they sure didn't think their visibility would shrink so badly that they'd hike into the leading edge of a zombie swarm, either. In the chaos of escaping the ravenous horde, they are separated, with Graham racing toward feral dog packs to the east and Riley sprinting to hostile survivors hunting them to the west.

Nobody said finding and keeping a quality guy (alive) during the apocalypse would be easy.
Woo baby! And playing along could get your grubby mitts on a digital copy for FREE. Here's how: Name one (other) possibly bizarre item you absolutely MUST have in your apocalypse survival stash. That's it. Easy, no? Could be Nutella. Could be lube. But whatever it is, you'll never find it on a disaster preppers' checklist. (Very much to those preppers' future regret!) Leave your answer in a comment below by 12:01 AM EST on Dead Cannibals' release day, March 5th, to be entered into a random drawing for one digital copy of Half a Million Dead Cannibals to complete your zombie apocalypse collection o' smut.
Wait.
Whut?
You don't have a zombie apocalypse collection o' smut? Dude, that is so very, very wrong, but no worries. Keep your eyes right here for a kick-ass contest on Dead Cannibals' release day that will stock you up for the end of the world in fine form! And in the meantime, comment below with your oddballs survival kit necessity for your chance at Dead Cannibals.
The zombie plague is coming, dudes. Rock on. 😉