Alrighty, folks! Got my final cover so it's finally time to trot that bad boy out. Behold!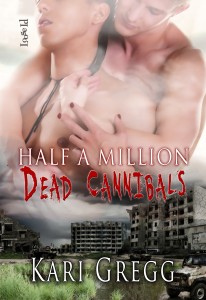 All that's keeping Riley from the man he's falling in love with are the ruins of a city filled with half a million dead cannibals.

Strangers, Riley and Graham sheltered together in a basement storage unit when the zombie outbreak slammed into the world three months ago. They lived through the first blast of the plague, but they may not last much longer among survivors scrambling for dwindling resources. They agree to hike from the city and to the safety of the mountains. They didn't count on the storm they hoped would cover their exit developing into a Nor'easter, though, and they sure didn't think their visibility would shrink so badly that they'd hike into the leading edge of a zombie swarm, either. In the chaos of escaping the ravenous horde, they are separated, with Graham racing toward feral dog packs to the east and Riley sprinting to hostile survivors hunting them to the west.

Nobody said finding and keeping a quality guy (alive) during the apocalypse would be easy.
Keep your heads up, dudes! The book trailer will be coming soon. In the meantime, tune into my Twitter account or the #DeadCannibals hashtag for my wicked fun absolute favorite zombie links and lines from Half a Million Dead Cannibals. Zombies on the brain, nom nom nom!
Happy reading!
Kari