Lisa Henry and I tend to write to similar themes so we decided it'd be fun to swap blogs for a day (I'll be at Lisa's answering questions & giving away a copy of I Don't tomorrow!) so without further ado…
* ~ * ~ * ~ *
Non Consent and Dubious Consent
I make no apologies for liking non-con and dub-con in my m/m erotic romance. I read a lot of it, and I've written some. Not everyone likes it, and that's okay. I'm not going to browbeat you into reading a book where a guy is forced, coerced, or otherwise intimidated into sexual submission. But I'm also not going to pretend it doesn't push a few of my kinky buttons. And yes, I'll take a side of humiliation with that order of submission, thankyou.
Men are hard-wired to establish a pack order. In m/m erotica I love the power struggles, the relationship between violence and sex, and the displays of domination and submission. It works on an almost primal level, so it's no accident that some of the best dub-con stuff out there involves alpha werewolves or shifters. Hello, I, Omega!
I think that the understandable difficulty some people have with non-con and dub-con is establishing a line between the fantasy and the reality.
The Make-Me Fantasy
Make no mistake. Non-con and dub-con in erotic romance is pure fantasy. The rape element is not rape at all, not in the context of the fantasy. It's about being dominated and controlled. It sounds counter-intuitive, but it's actually about freedom. It's about the freedom to revel in being made to feel what you otherwise wouldn't dare. It's about being forced to admit to desires you would otherwise suppress.
The Reality
I have friends who can't stand dub-con or non-con — not for the content, but for the tendency in erotic romance to turn what is essentially a rape into love. They would happily read a dub-con or a non-con without the HEA — hoping the alpha male gets a bullet in the head instead — and this is a perfectly valid response to the issue. Because in real life, it's rape, it's abuse, and you should get the hell out.
In my real life job I've said this a million times: You need to get out of this situation.
But he loves me.
No. You need to get out.
Relationships built on abuse, in the real world, are toxic. In the real world the reasons people love their abusers complex and tragic, and should never be mistaken for romantic. That's why I think that non-con and dub-con, marketed at adult readers, are much less worrying than the books that teenage girls devour where some creepy, possessive boy stalking you equates to love. I think those are far more insidious given the target audience, but that's probably a discussion for another day.
Tribute vs The Island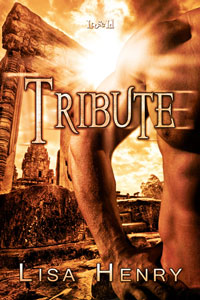 My first two books are dub-con and non-con: Tribute, and The Island. Tribute is the fantasy. Inexperienced virgin-with-guys young prince gets taken as —Kari, can I say "spoils of war" without breaching your copyright? — a political hostage by the older, dominant alpha male warlord. The alpha male breaks him, and in the end he likes it.
But for every scene I wrote, there was a small but persistent voice in the back of my mind that kept saying, "But in real life…"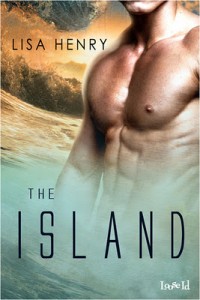 And that's where the very non-con The Island came from. Similar set up, but in a real world setting: a young guy gets captured by a crime lord. The crime lord breaks him. Except it's for real. Lee doesn't get off on it, except where it amuses his captor to humiliate him, and he doesn't fall in love with the guys who hurt him. Lee doesn't experience anything except terror and pain. And there was no way that I was going to give him his happy ending through any of the men who had hurt him because not one of them was redeemable. Enter Shaw, the morally ambiguous hero of the piece who seems like a prick to sit back and watch it happen, but might also enough of a decent guy to stand up for Lee in the end.
He Is Worthy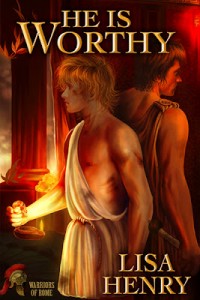 My third book, He Is Worthy is set in Ancient Rome. Again, because I went for realism over the fantasy, the torture and abuse of Aenor the slave isn't a part of some make-me fantasy. A lot of it is pure non-con. It's not pretty, and it's not titillating, because it's real. It was great fun to write something set in Ancient Rome because I've always loved that period in history, but I didn't want to use it as just a colourful backdrop to a make-me fantasy. The things that Nero does to his slaves — dresses up as a wild animal and attacks them with claws, turns them into human torches, and castrates his pretty "favourite" all happened to real human beings and I didn't want to diminish that.
Dark Space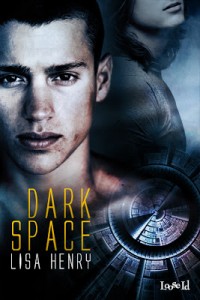 In my latest release Dark Space, both my guys are damaged. Both have been victims of rape, under very different circumstances, and both have responded in very different ways. Brady, the narrator, carries a lot of anger and a lot of hurt. And when Cam and Brady play at light bondage and domination, it's absolutely consensual. And it was also fun to play with the imbalance of power between the officer, Cam, and the enlisted recruit, Brady.
I didn't realize my breathing was so fast and shallow until Cam laid a hand on my back between my shoulder blades. "Shoulders back. Chest out. It's not your first day, is it, recruit?"

I swallowed and pulled my shoulders back as far as I could manage without pain. "No, sir."

It was a game. It was just a game. He couldn't really pull rank on me. Not like this. But it felt real, and I wanted it to be real. I wanted Cam to take control, to tell me what to do and then praise me for doing it. I wanted it, and I hated it. Most of all I wanted to cry, and I didn't know why. My throat ached, and there were tears just waiting to come. My entire body was on edge.
Brady and Cam have a different dynamic, and, apart from the difference in rank that doesn't hold for long behind closed doors, a much more equal relationship than any of my previous pairings. Which isn't to say some bad shit doesn't go down — as a writer I'm a total sadist — just that it comes from external forces. And, most importantly, both Brady and Cam understand that they're playing, that it's a fantasy, and that it's safe.
I will continue to write dub-con and non-con, because it's a subject that I like to explore and a lot of readers like to explore it as well. People will always have different limits on what they want to read, how many dark places they want to go in a story, but I think we're entering dangerous territory if all dub-con and non-con is considered somehow wrong, as though it promotes or glorifies rape and violence. And whatever your personal position — and I've got no desire to change your opinion — to view dub-con and non-con that way, I think, is an over-simplification of the issues it explores.
Thanks for having me on your blog, Kari! To say thanks, I'd like to offer a free copy of my latest ebook Dark Space to a commenter. Entries close in a week, after which I'll get a monkey to pull a random name out of a hat.
The monkey is my nephew Tom. I shall supply the hat.
Oh! And is this where I put the blurb for Dark Space? I'm totally going to put the blurb here:
Brady Garrett needs to go home. He's a conscripted recruit on Defender Three, one of a network of stations designed to protect the Earth from alien attack. He's also angry, homesick, and afraid. If he doesn't get home he'll lose his family, but there's no way back except in a body bag.



Cameron Rushton needs a heartbeat. Four years ago Cam was taken by the Faceless — the alien race that almost destroyed Earth. Now he's back, and when the doctors make a mess of getting him out of stasis, Brady becomes his temporary human pacemaker. Except they're sharing more than a heartbeat: they're sharing thoughts, memories, and some very vivid dreams.



Not that Brady's got time to worry about his growing attraction to another guy, especially the one guy in the universe who can read his mind. It doesn't mean anything. It's just biochemistry and electrical impulses. It doesn't change the truth: Brady's alone in the universe.



Now the Faceless are coming and there's nothing anyone can do. You can't stop your nightmares. Cam says everyone will live, but Cam's probably a traitor and a liar like the military thinks. But that's okay. Guys like Brady don't expect happy endings.
You can buy Dark Space at Loose Id, Amazon, or ARe.
And you can find my blog here, or catch up with me on Twitter or Goodreads.
* ~ * ~ * ~ *
All right, y'all. Put on your happy and comment below by 11:59 PM EST on Friday, December 14th for YOUR shot at a copy of Dark Space!