Wahoo and wa-hey, lookie at what's available now at Loose Id!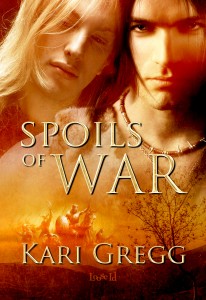 Enslaved during the invasion of the rival King of Herra, Micah cut off his emotions and adapted to his new life in servitude. Xerxes, the Herran King, abuses his captive to keep the neighboring kingdom of Alekia under his yoke, but after Micah nearly dies when plague sweeps Herra, the Alekian King sends Eli to bring his beloved son home. Conditioned by his slavery, unable to cope with his freedom, Micah seeks to please the new master he's found in Eli throughout their harrowing journey to a homeland he no longer remembers. Eli protects the young man and introduces Micah to the pleasures denied him as a prisoner.

Will Micah accept his noble birthright when they reach Alekia, and more importantly, can he accept Eli as the devoted slave his father has given him rather than the master he's come to love?
Look for Spoils of War at Amazon, ARe, Barnes & Nobles, and other vendors in the next day or three.

Congrats to gm, for winning the random drawing for a free copy of Spoils of War on my blog, as well as to Angel W for winning a free copy of Spoils along with a free ebook of Spoils' sequel, Plunder in my random subscriber drawing for my new release newsletter. Never read Plunder? Now's your chance, but you'll have to act fast! To woot Spoils' release, Loose Id has temporarily slashed the price of Plunder by TWO BUCKS to $4.99 until January 16th. YAY!
Hoping you'll love Micah and Eli as much as I do…Happy reading!
Kari