It's not very often an author misses her own release date, but…ahem…Demonstrably, that happens. At least it happens to me. Mortifying, really. Dh's been ill and although he's on the mend now, it's very true to say the last little while has not been fun times in the Gregg neighborhood. Vast understatement. With one thing and another, "Mating Season"'s release sailed right past me. (Good God!)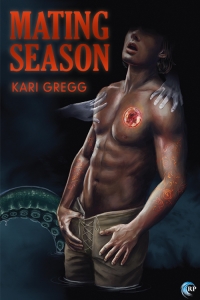 He didn't believe in the monster of the lake . . . but that didn't make it any less real.

When Danny needs a getaway, his best friend goads him into a week-long hiking trip. Who cares if local superstitions and old wives tales warn the wary to avoid the lake once summer nights turn chilly? The trails are still pretty, the wildlife just as plentiful, and the fall colors beautiful for the lens of Danny's digital camera. Nothing sinister could happen, not here.

Danny was wrong. Assaulted by lusty tentacles that push his body—and his sanity—to the brink, Danny is then held captive by his best friend, betrayed for the sake of science. Unable to escape and terrified of the changes in his body, Danny's alternatives are few. He will be returned, over and over, to the monster.

But maybe his future isn't as bleak as it originally seemed.
Many, MANY thank you's and sincere gratitude to those who noticed "Mating Season" had begun to strut without my head's up and made "Mating Season" a site-wide bestseller at ARe as well as bestseller on Amazon's Gay & Lesbian Horror list. Wow. God's honest truth, that made getting back to work a whole lot less of an ordeal. So…thank you!
For those of you who didn't know about the release, my bit of super duper creepy tentacle smexin is available at:
Riptide
Amazon
ARe
Barnes & Noble
and other retailers!
Please heed the content warnings, which I don't have in front of me at the moment, but trust me, are plentiful. With reason. If "Mating Season" doesn't turn your crank while freaking you right the hell out, nothing will. I kitchen sinked this one, you are hereby forewarned, LOL.
Buuuuuuuuuuuuuuuut…if the tentacle festival of smutty woot that is "Mating Season" happens to strike you as an OMFG Yes Please this Halloween, you might want to check out the other single releases from the Bump in the Night anthology in which "Mating Season" initially appeared: Laylah Hunter's "Resurrection Man" as well as Heidi Belleau and Sam Schooler's "Blasphemer, Sinner, Saint." My hearty congrats to those authors on their releases!
Finally, a brief heya to newbies (and veterans in the m/m writerly mosh pit too, for that matter)…The next time you think you screwed up? HA! At least you didn't miss your own release date, man. Farkin embarrassing. Egads.