Halloween's one of my absolute favorite times of year. I adore being scared…almost as much as I lurv cackling around my yard whilst I set up a small army of spooky props. If you're buds with me on Facebook, you might've seen these pics of my creepy wootfest in progress:
But there will be MUCH, MUCH more to come. This is just crap around my yard — and the tip of that iceberg, at that. I haven't even started on my haunted trail yet. Or the task lighting. Which is vera, vera important. 😉
Anyway, I had to post the shot of my much in-progress tentacle bush in honor of the single release of the wonderfully pervy smut-o-pacolypse I wrote for last year's Bump in the Night anthology with Riptide, Mating Season which is available for pre-order RIGHT NOW: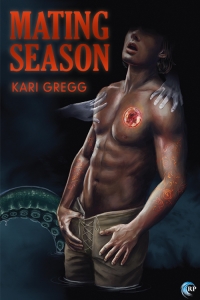 He didn't believe in the monster of the lake . . . but that didn't make it any less real.

When Danny needs a getaway, his best friend goads him into a week-long hiking trip. Who cares if local superstitions and old wives tales warn the wary to avoid the lake once summer nights turn chilly? The trails are still pretty, the wildlife just as plentiful, and the fall colors beautiful for the lens of Danny's digital camera. Nothing sinister could happen, not here.

Danny was wrong. Assaulted by lusty tentacles that push his body—and his sanity—to the brink, Danny is then held captive by his best friend, betrayed for the sake of science. Unable to escape and terrified of the changes in his body, Danny's alternatives are few. He will be returned, over and over, to the monster.

But maybe his future isn't as bleak as it originally seemed.
If the spooky funfest is calling your name and something wonderfully dirty…and so wrong…but so incredibly OMFG hot…sounds like a great way to spend a pleasant evening, just click on the cover above to place your order today. Can't wait? Alrighty then! You can still find my smutty tentacle smexin and fabulous stories from other seriously disturbed individuals talented authors like Heidi Belleau, Ally Blue, and Laylah Hunter in the Bump in the Night antho!
Awesome, no?
But wait! There's more Halloween wooting to be had! I also recently reissued my bitch slap o' shifter kink: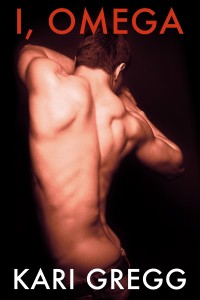 After one mind-shattering night with a stranger at a local leather bar leaves him forever changed, Gabriel lives on the streets as a vagrant to elude the master who hunts him, but the shifter is a fierce, stubborn predator who reclaims him soon enough. Gabriel is carried away to the pack's home territory where his instruction on what it means to be the pet of an alpha begins. Gabriel isn't just any pet, though. He is the rarest among their kind: a human omega.

Treasured? Or cursed?

As Gabriel's father, the Distinguished Gentleman from Pennsylvania and stalwart of the conservative party, pushes the considerable resources at his disposal to locate his missing son, Gabriel explores who and what he is under his master's careful protection. Gabriel falls for the shifter who is lover and destroyer, owner and…friend?

Content Warnings: Dubious consent, lotsa kink, and an embarrassment of riches in hormonal anarchy – RAWR!

NOTE: This is a previously published work.
And at a new low price, too — $3.99 which is what? A buck or two lower than it was priced before? Ni-i-i-i-ce. Except it gets nicer. Until the clock of doom strikes midnight on October 31st, you can pick up I, Omega at ARe 25% off — for (holy shit!) $2.99.
Basically, whether you're in the mood for smoking hot tentsex or howling at the moon with shifter RAWR this Halloween, I've totally got you covered.
You might also want to keep your ear to the ground. Got another project coming up, one I can't talk about yet. But compadres, it's a DOOZY. 😀
Smutfully Yours,
Kari