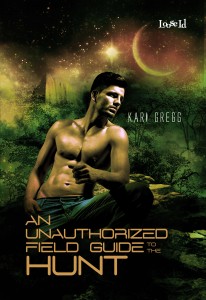 Pornocats, HO! Just a few more days until An Unauthorized Field Guide to the Hunt releases on an unsuspecting and ill-prepared public. Mariket's non-disclosure agreement didn't stop victor Shane West from spilling the details and won't stop this expose on last season's scandalous Hunt, either. All your burning questions about Mariket, the cats, and the Hunt have been answered in this pervy account of Shane's seduction, his survival, and his ultimate triumph.
What does it take to tempt a cat in the arena?
What's it like to enter the chase, to accept the mark of a mate?
And which of the shocking rumors about last season are true?
You're days away from finding out, compadres!
After hours of intense (and frequently embarrassing) interviews, I picked the best direct quotes from Shane about his mate, about what the arenas on Mariket are like, and what it takes to become a victor. These tips and tricks are nested in the Field Guide for all you competitor wanna- and gonna-be's, no worries. Here's a tease of the first kernel of wisdom & hard-won experience –
"Entering an arena is like being awarded a ticket into the most exclusive megabucks lotto in the galaxy…except that ticket is accompanied by vicious claws, fangs, and a barbed penis." ~ Shane West
RAWR!
Just so happens that, as some of my American peeps might be aware, the Powerball lottery here on earth is creeping around $400 mill. Drawing's tonight and I, for one, am making stellar plans for my winnings. (Current plan is building a castle, btw. With a moat suitable for floating beer coolers and inner-tubing on those rare occasions when zombies aren't attacking. LOL) So…
Don't want to wait for the next mating cycle on Mariket to trigger your chance at a win in the Hunt? Me, neither. Waiting sucks. Fortunately, getting your shot at a prize couldn't be easier. You won't even need to pony up two bucks for a Powerball ticket. Leave a comment below with what YOU would do with a lotto win to be entered into a random drawing for a free digital copy of the Field Guide by 9:01 AM EST on August 13th, the release date for An Unauthorized Field Guide of the Hunt. The winner will be announced shortly thereafter. For another chance to win, if you haven't signed up for my newsletter already, please do so on the sidebar to the right on my website — I draw a random winner among subscribers for a prize every time a book releases!
Leave your comment below about what you'd do with your lotto bucks for your shot at winning a copy of the Field Guide — and I wish you all the best of smexy luck in the next Hunt…
Kari