The Last Emperor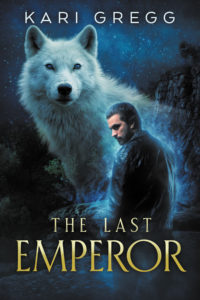 The tribes were his to lose…and theirs to regain.
History taught that rebels executed young Prince Nika Marisek and the rest of the imperial family during the revolution and concealed those crimes by burying the bodies in an unmarked grave. History was wrong.
Many winters later, yarn shop owner Nick Goode came forward to reclaim his rightful identity and to see his long-dead family decently buried. He'll do whatever it takes to persuade elders who assumed rule of the tribes after the war…including offer to abdicate the throne. Some, however, seek to capitalize on Nick's survival. The pity wasn't that shifters rebelled, only that the revolution failed. Who better to drag the tribes from the rut of corrupt tradition into freedoms the rebellion had promised if not the prince who became one of the peasantry in exile?
Arit hates politics and ambitious self-serving elders especially. When his estranged sire shows up with the celebrity prince in hopes of fulfilling a pre-war mating pact, Arit resists. He craves strength on strength, the challenge of an alpha mating another alpha. Rediscovered royalty or not, a damaged omega who knits doesn't fit the bill. Arit will guide them through an adventure tour to explore their wolf instincts; that's his job. But that's all he'll do. Nothing else.
Except Nick isn't the omega the tribes believe he is. He isn't damaged.
And if he seduces Arit to win the support of Arit's scheming sire, Nick won't give up his throne either. He'll risk everything to see the ideals of the rebellion finally realized for the good of his people…and end his fate as the tribes' last emperor.
CONTENT WARNING:  mating heats, mpreg themes, shifter knotting
Approximately 65,000 words
COMING SOON.
Save