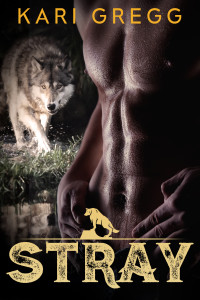 Published by: Kari Gregg
Published: March 4, 2016
Word count: 40,643
With a lycan father, a human mother, and the human side of his genetic makeup dominant, Luke left his birth pack to try living among humans, but he felt awkward and uncomfortable isolated from the culture that raised him. He's still searching for where he fits in.
After losing his family in a vicious attack, Dean rebuilt his pack by accepting loners, rejects, other survivors, and even ferals. He and his ragtag group of strays made a warm and welcoming home.
Luke believes he's finally found where he belongs. Meddling parents and a neighbor who isn't as human as he seems won't sway him. Luke wants Dean to take in one last stray…him.
Content Warning: Shifter knotting/tying, mating heats (yes, plural), and jerky!
.
Stray by Kari Gregg is an interesting and often fresh look at the wold of shifters… the world building is intense… — Prism Book Alliance

Every once in a while you come across a new story that has a different outlook or tone to it than many stories that have the same topic, and I think Kari Gregg has written one. You read about shifters or the paranormal world and they do have a similar tone to them, however some of them feel like cookie cutter type of stories. They talk about matings, falling instantly in love and so forth. With this story it is just a bit different, very new fresh look in my eyes.– MM Good Book Reviews

Dean and Luke bring two very different backgrounds and life-experiences together despite their similar culture, as they struggle to traverse the fine line between instinct and emotion on the road to a life-bond. Strong secondary characters add depth and I must say, a very welcome, well-placed if unaccustomed humour to the story. — Books 'N Cozy Spots Book Reviews
.

Amazon Gay Romance, Gay Fiction Bestseller
ARe Site Wide Bestseller
ARe Category Bestseller — Gay, Paranormal/Horror, Werewolves/Shifter
Stray is available at these vendors (in these formats):
Amazon (mobi)
Barnes & Noble (epub)
Kobo (epub)
Smashwords (mobi, epub, pdf)
Payhip (mobi, epub, pdf)
iBooks
Save