Plunder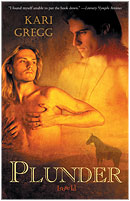 Captured as a boy when Herra invaded his homeland, Micah realizes that finding his way to freedom in Alekia with his savior and lover Eli was the easier task. They now hide among the Alekites, and battle with Herra looms.
With Eli's love, Micah must come to terms with his status as a noble and his mother's birthright of witch's blood inside him. The two also face the father Micah cannot forgive and Eli's family, who very much want Eli back as firstborn heir rather than the lowly slave who rescued the king's favorite son.
When court intrigues stir and Herran armies march to war, Micah and Eli must make their stand…or fall as plunder.
Available at:
Amazon
Barnes & Noble
* ~ * ~ *
I, Omega and Collected Shorts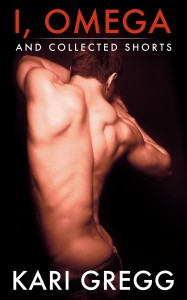 I, Omega    After one mind-shattering night with a stranger at a local
leather bar leaves him forever changed, Gabriel lives on the streets as a
vagrant to elude the master who hunts him, but the were-shifter is a
fierce, stubborn predator who reclaims him soon enough. Gabriel is carried
away to the pack's home territory where his instruction on what it means
to be the pet of an alpha begins. Gabriel isn't just any pet, though. He
is the rarest among their kind: a human omega.
Treasured? Or cursed?
As Gabriel's father, the Distinguished Gentleman from Pennsylvania and
stalwart of the conservative party, pushes the considerable resources at
his disposal to locate his missing son, Gabriel explores who and what he
is under his master's careful protection. Gabriel falls for the shifter
who is lover and destroyer, owner and…friend?
The Importance of Being Denny   Matt appears on Denny's doorstep four years
after Matt's mother put Denny on the first bus out of California. Loving
the very closeted Matt cost Denny everything once: his home, his family,
the safety net of his trust fund. Everything. Denny built a new life. Matt
finally coming out has stirred his mother's wrath, though, and four years
of not loving Matt is about to cost Denny everything. Again. Or is it?
You Melted Me   Brian couldn't resist playboy executive Leland Whitacre in
spite of their employer's strict no fraternization policy. Leland isn't
just his boss, though. He's the son of the company's CEO. And Brian has
fallen in love. Hurt by too many stolen kisses and nooners at seedy
hotels, Brian finally broke off their secret affair two weeks ago. Leland
isn't ready to let Brian go and he isn't above seducing Brian — again —
to give them both what they really want for Christmas: each other.
Available at:
Amazon
Barnes & Noble
* ~ * ~ *
I Don't: A Christmas Wish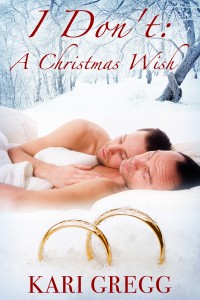 At least he isn't pregnant.
Seth Murphy campaigned for Maryland's Question Six, wildly celebrating the Election Day victory for marriage equality. Divorce attorney and live-in boyfriend Owen, however, believes just as passionately that the gay community should focus on a plurality of equal rights protections instead of allocating so many resources and man-hours to one hot button issue.
Owen won't marry Seth.
Relationship deteriorating, the couple visits the Murphy farm outside Brunswick for Christmas. Seth's family never considered that Seth and Owen wouldn't be first in line for a marriage license as soon as same-sex marriage passed. When they find out there won't be a wedding, their season of miracles is invaded by pornographic gingerbread cookies, frowning church ladies, and a determined father with a tactical assault shotgun.
Neither Seth, Owen, nor their love may survive the family holiday circus to say, "I don't."
Available at:
Amazon
Barnes & Noble
* ~ * ~ *
Bump In the Night
Turn off the lights . . . and turn on your darkest fantasies.
Demon pacts. Ghostly possessions. Monsters lurking in the depths. The things that go bump in the night frighten us, but they also intrigue us. Fascinate us. Even turn us on.
Join us as fan favorites Ally Blue and Kari Gregg bring over-amorous aquatic beasts to life with their mythic twists on the Siren and the monster in the lake. Erotic horror pros Heidi Belleau, Sam Schooler, and Brien Michaels show us just how sexy scary can be with a pair of demon deals destined to curl your toes and set your heart thrashing. And literary masters Laylah Hunter and Peter Hansen weave haunting worlds where ghosts and dead lovers can touch our hearts (and other, naughtier places too . . .) and teach us lessons from beyond the grave.
By turns exciting, evocative, and exquisitely explicit, the stories in Bump in the Night are sure to scratch your sexy paranormal itch. Explore your wildest fantasies with us in this collection of dark erotic tales.
Bump In the Night is available at: