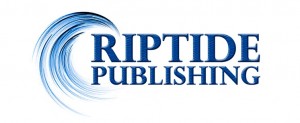 Sooper Seekrit Projekt no more! Now that the site is live, I can finally spill…My D/s dsytopian m/m novella, Collared, was contracted with brand spanking (hardee har har) new publisher, Riptide Publishing! Riptide is a boutique publisher headed up by good buddies Rachel Haimowitz, Aleks Voinov, publicist Chris Hawkins and art director, L.C. Chase. And oh my, you guys should be jealous, oh so heinously jealous. For the time being, Riptide submissions are invite-only and I count myself lucky to number among the first wave of authors:
L.A. Witt
Andrea Speed
Damon Suede
Brita Addams
Bryl Tyne
Peter Hansen
Cat Grant
Rhianon Etzweiler
Storm Grant
with some goodies from co-founders Rachel and Aleks too.

Riptide will start rolling out short stories, novellas and novels this fall, with a kick-ass launch party the likes of which you've never seen. Prepare for much blog touring, loads of whoa-inducing prizes and in my Collared's case, lots of #GenAlteredCorn pelting. (Yes, you read that right.) Be on the lookout for updates including my GORGEOUS cover (for a sneak peek, check out the cover art sample file in Riptide's press kit!), blurb and excerpt soon.
YAY!!!!