Many a moon ago (last summer, LOL), I got the rights back to my first m/m book, a fantasy novella called Spoils of War, about a month prior to the original publisher of that book folding. Thus ending a long, ugly war over frankenPODs, unreported sales, miscalculated & MIA royalties, filing a lawsuit, and an extremely unpleasant partridge in a sooper stressful pear tree. (Any other author who's been through it and pushed to the other side knows exactly what I'm talking about. Not a fun time.)
With my rights safely tucked in my pocket, I could breathe again. And finally — finally — I could do right by that book. Rather than rolling Spoils back into the market with a spiffy new cover, I rolled up my sleeves and got to work! I loved Micah and Eli, of course, but I was very new when I wrote that book, which didn't get a lot of editing. I'm a much stronger writer now and I knew I could make that story better. So that's what I did.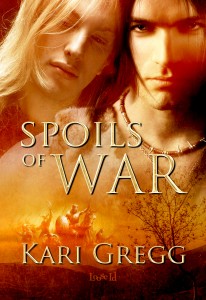 Enslaved during the invasion of the rival King of Herra, Micah cut off his emotions and adapted to his new life in servitude. Xerxes, the Herran King, abuses his captive to keep the neighboring kingdom of Alekia under his yoke, but after Micah nearly dies when plague sweeps Herra, the Alekian King sends Eli to bring his beloved son home. Conditioned by his slavery, unable to cope with his freedom, Micah seeks to please the new master he's found in Eli throughout their harrowing journey to a homeland he no longer remembers. Eli protects the young man and introduces Micah to the pleasures denied him as a prisoner.

Will Micah accept his noble birthright when they reach Alekia, and more importantly, can he accept Eli as the devoted slave his father has given him rather than the master he's come to love?
For fans of the first edition of this book…The story you came to love has not changed. Micah is still Micah; Eli is still Eli. If the horrific formatting of the first edition made you batty, though, that's been fixed. Craft issues that drove me bonkers have been addressed, to give readers a smoother and more elegant ride, too. I also added a short epilogue that didn't appear in the first edition for a more pronounced HEA so if you longed for that sweet ending sigh when  you read it years ago, now's your chance.
I can't thank my editors at Loose Id enough for helping me polish my first and much beloved m/m book into a better, stronger story — the story I wished Spoils had been when it released back in 2010.
And with all that said…Where's the deets on the free stuff, right? LOL!
Very fitting that my new year should start with a new beginning for my very first m/m story. What about you? What are you hoping for in 2014? Comment below by 12:01 a.m. EST on January 14th, the release date for the new & improved Spoils of War, to be entered into a random drawing for a FREE ebook of the revised edition!
Wishing you all a 2014 full of love, laughter, opportunities, and adventure…
Kari