October's here. Halloween is in the air. Are you ready to be creeped out? Eager to wallow in beautiful (and arousing) OMFG-ness? Today's your lucky day, dudes. Today is your day.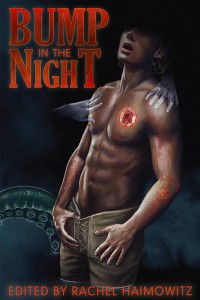 Turn off the lights . . . and turn on your darkest fantasies.

Demon pacts. Ghostly possessions. Monsters lurking in the depths. The things that go bump in the night frighten us, but they also intrigue us. Fascinate us. Even turn us on.

Join us as fan favorites Ally Blue and Kari Gregg bring over-amorous aquatic beasts to life with their mythic twists on the Siren and the monster in the lake. Erotic horror pros Heidi Belleau, Sam Schooler, and Brien Michaels show us just how sexy scary can be with a pair of demon deals destined to curl your toes and set your heart thrashing. And literary masters Laylah Hunter and Peter Hansen weave haunting worlds where ghosts and dead lovers can touch our hearts (and other, naughtier places too . . .) and teach us lessons from beyond the grave.

By turns exciting, evocative, and exquisitely explicit, the stories in Bump in the Night are sure to scratch your sexy paranormal itch. Explore your wildest fantasies with us in this collection of dark erotic tales.
Just a head's up — my 12K word contribution to this deliciously frightening anthology, "Mating Season," is a gleefully depraved tentacle smex-palooza and if you don't gasp at least one "OMFG!!!" while reading it, I will have considered that lack a shameful fail for yours truly. It's the perviest perv that ever a perv could perv. Don't say I didn't warn you. LOL.
Get your fix of disturbing, smexy, and creepylicious at:
Riptide
Amazon
Barnes & Noble
ARe
And a happy, happy release day to my fellow Bump in the Night antho authors Ally Blue, Heidi Belleau, Sam Schooler, Brien Michaels, Laylah Hunter, and Peter Hansen as well as a woot to the antho editor at Riptide, good buddy Rachel Haimowitz!
Happy reading, y'all…and heed the warnings to stay away from the lake in the Fall. Or else. Mwahaha…
Kari