Congrats!
The giveaway winner, chosen at random by one of my kids (LOL), is Andrea M.. Check your email, dude! And I hope you like I Don't.
For everyone else…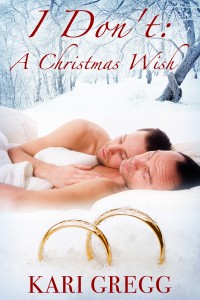 I Don't: A Christmas Wish released today and is available at: Amazon, ARe, and Smashwords. And should be at Barnes and Noble within a day or two. (ETA: Here ya go.) You can also get a POD print edition of I Don't for $6 at Amazon and less than $4 at B&N.
I hope you like Seth and Owen's holiday journey through Crazytown as much as I enjoyed writing it.