Happy election day, everyone! If you're in the States, I hope you're taking advantage of your voting privileges. Unless you're active in the process, no whining and bitching allowed. 😉
To make our liberation from obnoxious political campaign ads that much more speshul, I'm making an obnoxious announcement of my own — the print release of Plunder!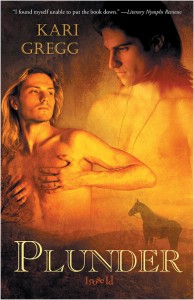 YAY! And YOU can join my celebration by commenting below with your WAHOO happy dance over no more political ad campaigns too! Leave a comment by 10:00 AM EST on Tuesday, November 13th to be entered into a random drawing for print copies of both Spoils of War and Plunder. I'm including international readers so if you're not in the USA, don't let that stop you from taking a shot at winning the books.
Please don't forget to vote if you're in the States and join me in my WOOT by posting to enter for the drawing.
😀 😀 😀
Kari