Hi, guys! I've been down with the beasiest of the most beasty flu, but fortunately, digital copies don't arrive in your inbox smothered in germs, do they? 🙂 To that end, my non-infectious offer — comment below to be entered into a random drawing for one FREE copy of Plunder (the Spoils of War sequel) by 12:01 AM on Plunder's release day on Tuesday, August 14th. Winner to be drawn, contacted, and announced as soon as I wake up release day morning, LOL.
And because it's such a lovely, smexy thing, Plunder's shiny new cover: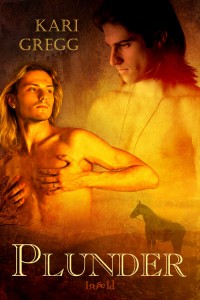 Love, love, LOVE it! Fiona Jayde, if you see this, you are a GODDESS. Fiona did the cover for the first book, Spoils of War, and wow, did she ever deliver with Plunder. Fantastic!
Oh, I should probably include the blurb or something, right?
Captured as a boy when Herra invaded his homeland, Micah realizes that finding his way to freedom in Alekia with his savior and lover Eli was the easier task. They now hide among the Alekites. Battle with Herra looms. With Eli's love, Micah must come to terms with his status as a noble and his mother's birthright of witch's blood inside him. The two also face the father Micah cannot forgive and Eli's family, who very much want Eli back as firstborn heir rather than the lowly slave who rescued the king's favorite son.

When court intrigues stir and Herran armies march to war, Micah and Eli must make their stand…or fall as plunder.
Sooooooooooooooooooo excited that you guys will finally be able to see the next stage in Micah & Eli's journey!
Remember, comment below. A tip or home remedy for the flu would be awesome. Just sayin. Or since I'll be on vacation sunning my semi-nekkid self on the beach on release day (given that I'm not quarantined by the CDC), tell me where you spent (or are spending) your vacation. Or just say hi. Up to you, dudes, but leave a comment below for your shot at the freebie. 😀
If you haven't signed up for my newsletter, a final reminder that you should before release day & the drawing for prezzies among subscribers. (I promise not to abuse your inbox; you'll get nada from me unless a book's coming out.) Also, keep your eyes glued. My head's too spinny to upload it right now, but as soon as I feel up to it, Plunder's book trailer will be coming.
Leave your comment — and good luck!
Kari