I gots another fabulous new cover from the wholly awesome Lou Harper! This one's for my free short story for the Goodreads M/M Romance Group's Hot Summer Days event last July and is also available in this free anthology!
Without further ado…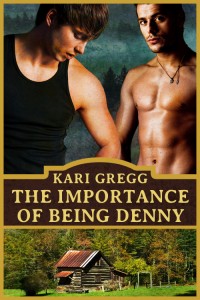 Matt appears on Denny's doorstep four years after Matt's mother — Denny's stepmother — put Denny on the first bus out of California. Loving his very closeted stepbrother cost Denny everything once: his home, his family, the safety net of his trust fund. Everything. Denny built a new life. Matt finally coming out has stirred his stepmother's wrath, though, and four years of not loving Matt is about to cost Denny everything. Again.

Or is it?

Content warning: brothercest (stepbrothers)
Click on the cover above to get your FREE copy today — WOO HOOOOOOOOOOOOOOO!
Be on the lookout for a massively fun giveaway to celebrate In the Red's January 3rd release with Loose Id — I'll be throwing a post-holiday bash with prezzies starting December 27th!
And in the meantime…I'm working, dudes. Zombies. Well, no, zombies aren't characters in the book, LOL, but I'm playing inside a dystopian world created by a zombie apocalypse, working title: Dead Reckoning. Deets to come… 😉